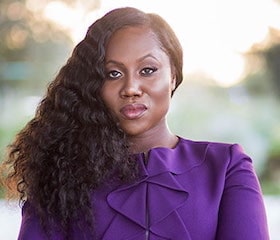 Felicia Allison Bunbury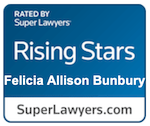 Originally from New York City, I spent the summers in Florida visiting with my grandparents. I attended Hofstra School of Law and graduated in 2011. Later, I moved to Florida to be closer to my family.
Although I'm licensed to practice in both New York and Florida, I chose to settle down in Florida, where I've opened my own law firm and am starting a family.
During law school, I worked in the Domestic Violence Clinic counseling families and children who were victims of abuse. I was the recipient of the prestigious Public Interest Scholarship for my work helping families in the community.
My experience working with families in various settings makes me uniquely positioned to handle legal family matters. I bring not just my knowledge of the law, but my professional understanding of the issues inherently related to many of those matters. I have dedicated my life to helping clients during some of the worst times in their lives. Let me help you.
When I am not working, I enjoy swimming at the beach, Zumba and spending time with my family.
Education
J.D., Hofstra University School of Law, 2011

Honors and Activities:

Hofstra Trial Advocacy Association
Mock Trial Team
VP of the Public Justice Foundation
B.A., Stony Brook University, 2007

Honors and Activities:

Golden Key Honors Society
Political Editor of The Black Voice
Student Body Delegate
Debate Team
Jurisdictions Admitted to Practice Florida, 2016
New York, 2012

Professional & Bar Association Memberships
Orange County Bar Association
Member Since: 2020
Caribbean Attorney Network
Member Since: 2012
Representative Clients
FAB Wins: A Father is Awarded Majority Time-Sharing
Father was being denied contact with his young daughter. The father conducted research on the internet and formed the belief that he could not win primary custody because he is a man and that court's favors mothers. The FAB Law Firm, LLC was hired to fight for this Father's Rights. After a long hearing "FAB" was able to successfully secure majority temporary custody for this father and the mother was granted supervised visitation only.
FAB WINS: Mother is Awarded Visitation and Joint Decision Making Restored
Mother was being denied visitation and phone contact with her two sons and had not had overnight visitation with her children in over 2 years. The Father (a police officer) was seeking sole parental decision making and made allegations of child abuse and neglect. Attorney Bunbury of The FAB Law Firm, LLC vigorously represented the client and won the trial. After a half day trial, the Mother was awarded joint custody and regular overnight visitations with her children.
Our client won in a landslide: she was granted visitation and joint decision making. The Court also warned and assured the Father that if the parties appeared before the Court again and Mother had not seen the children then the Father would leave the Courtroom in handcuffs.
FAB WINS: Frivolous Temporary Injunction DENIED
The FAB Law Firm, LLC successfully defended a frivolous temporary injunction and was able to get the injunction dismissed.
The FAB Law Firm, LLC represented a Husband (an elderly man) who was served with a temporary injunction based on false information. His Wife was using the temporary injunction in order to gain leverage in a Divorce. As a result of the Wife's false allegations Husband was denied access to his home, car and personal effects and Husband felt hopeless. Husband then hired our firm and we immediately filed a motion to dismiss and had trial. After the trial the Judge found that Wife to be incredible and that her allegation were false. The injunction was dismissed.